Did you choose the right collar for your dogs?
What's the most pleasant moment you share with your beloved dog? Is it the everyday walk or the nights you spent cuddling together?
As genuine dog lovers we all are, I believe that we have no intention to harm our dogs at all. But are we putting them in some invisible danger without any notice? I'm afraid that the answer may be positive. 
Please go through the brief questions below:
Have you chosen the wrong collar for your dog?
Did this question ever pop up in your mind at all?
Do you feel that the collars or harnesses you bought somehow loosen up easily?
Have you ever felt that your dog didn't seem to be fond of wearing the collar?
To be an eligible owner, it is our obligation to get the safest and suitable gears for our furry kids. If any of the questions above rings a bell in your mind, then maybe you did not get the right collar for your dog. Please continue reading this article. 
In previous decades, we had been using almost the same type of traditional collars. With the progress of the times, experts found that those traditional collars may over-restrain dogs, which may further lead to acute or chronic injuries to their fragile neck and thorax.
Although some may debate that traditional collars shouldn't take all the blame and it was the owner's lack of proficiency in leash and collar usage and training skills that contribute to the risk of potential injury,   
Based on professional studies, for some breeds of dogs, such as Chihuahua and French bulldogs, collars pose a potential threat to them due to their relatively short trachea and respiratory disorders. This is exactly why we came up with the best dog harness products ever!
Our
Fantastic Rainbow Dog Harness
provides the best safety and comfort for dogs.
It is not only easy to wear but also adjustable, which saves you from the worry of purchasing the wrong size.

Made of high-density polyester straps with beautiful luxe rose gold hardware, our harness is extremely durable and stylish. With this product, owners no longer have to worry about their dogs getting rid of their control or getting hurt while acting wild.
On the other hand, if you are keeping a larger or medium-sized dog, harnesses may not be in your shopping cart. Since large dogs tend to have more strength and harnesses are too comfortable to keep them under your control. That would definitely reduce the anticipated functions of restriction or training. Instead of harnesses, collars play the role much better for larger dogs. For owners seeking for more fashionable and stylish collars,
Rainbow Dog Collar
would be one of their top choices.

Our Rainbow Dog Collar comes with unique gradient colors and has a variety of lovely styles.
To ensure the comfort of dogs, 100% cotton rope and hand dyeing were used. The 6-hole design also makes the collar length adjustable to fit your dogs even as they gradually grow up.    
Now that you are equipped with the right collar or harness, there's one last thing left to go for a fabulous walk – the dog leash. When it comes to collars, our
Rainbow 6 In 1
and
Rainbow Woven Leash
certainly serve as the best options.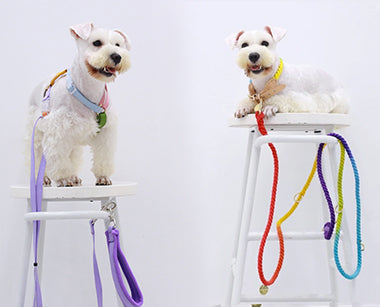 Our leashes feature 100% cotton rope and natural dye. The designs are so distinguished that make you and your dog stand out from others while taking a walk. Aside from great durability, the soft padded handle provides owners with comfort while giving enough strength to keep their dogs under control.
When you are looking for stylish, eye-catching alternatives, must you visit our website. We got the best-quality products ready to satisfy your desire. Now let's go for an unforgettable walk!